What Does "NSF Certified" Mean for Water Treatment Systems?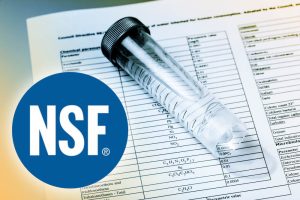 If you're investing in a product that influences the quality of your water, you want to go the extra mile in making sure it's going to deliver on its promises. There is one easy way to distinguish a high-quality system from the rest: an NSF certification. While shopping for a new water treatment system, you might have seen the NSF mark or the "NSF certified" label on some products.
But what is NSF, and what does it mean for something to be "NSF certified"? Keep reading to learn how this mark can help you determine the quality of a water treatment system—and why it matters to you.
What Is NSF International?
NSF International is a non-profit organization created in 1944 to give unbiased testing, auditing and certifying to products to ensure they meet public health standards. NSF specializes in certain industries, so you won't see their label on every single product on the shelves of your hardware store. Products eligible for testing are wide ranging—covering many consumer product industries including food, automotive, water, and construction.
Staffed with a team of food safety specialists, chemists, scientists and public health experts, and with laboratories across the world, NSF has a strict set of tests that products must pass to secure a certification.
Why Does an NSF Certification Matter?
It's important to emphasize that NSF is non-profit and third-party operated. That means there isn't a way for companies to buy their way into a certification. Instead, the quality of the products will need to speak for itself over the course of several stringent tests.
For the consumer, an NSF certification gives proof that a product does what it claims to do. A water filtration system that claims to be certified to reduce chlorine smell and taste will be thoroughly tested to ensure it does just that, letting a consumer know it's a worthwhile investment.
Additionally, in order for a water treatment product to achieve NSF certification, the product must reduce contaminants down to a safe level in accordance with the US EPA Safe Drinking Water Act.
Is an NSF Certification Important for a Water Treatment System?
Products that do not have an NSF certification are not inherently low-quality. However, for consumers who are concerned with product performance, the certification helps to make the shopping process easier. With the distinction of an NSF-certified mark, consumers don't have to go through an extensive research process to figure out if the filtration system actually performs the way the company claims it does.
If you're shopping for a water filtration system, it is wise to seek out an NSF certification mark, which will be displayed on the packaging and/or on the product itself. If you have a product in mind that doesn't have the certification, you'll want to do some research before spending money. Find out if the manufacturer has sought out third-party tests, and if they have provided proof of lab results. Third-party test information is often included in the owner's manual, which you can usually find online. This is an important step when you're making an investment in the improvement of your water.
Which Water Treatment Systems Are NSF Certified?
Whether you're looking for a water filtration system, a water softener or a replacement filter for your system, you don't have to look too far to find an NSF certification mark. Several larger brands including Brita, Whirlpool and EcoPure have gone through the process of testing and certifying their products through NSF to ensure they perform as intended for the consumer.
A great example of a product with extensive NSF testing is the Brita Total 360 Reverse Osmosis Drinking Water Filtration System, which is certified to NSF standards to reduce more than 90 contaminants, including lead, PFOAs, nitrates and chlorine taste and odor. When shopping for a system that reduces contaminants as dangerous as lead, you need to know it can actually do so.
Brita Total 360 Reverse Osmosis System
Offering some of the most powerful water filtration available, this reverse osmosis system from Brita Total 360 can give you cleaner, healthier water right from your sink.
SEE MORE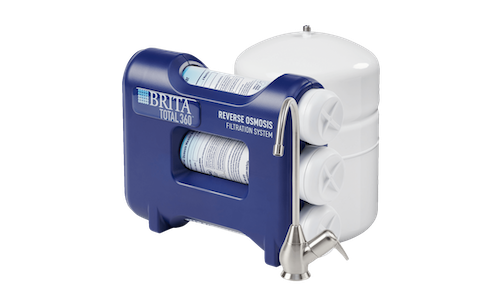 Begin your search for the right NSF-Certified water treatment system
Now that you know how helpful NSF certification can be in your shopping process, it's time to learn more about the water treatment systems you're looking for and how to select the best one for your home. Explore the Home Water Resource Center for a wealth of information about water softening, water filtration and so much more.